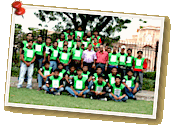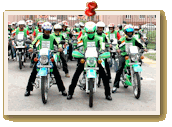 President
Mr. Surendra Nath Sharma, IPS (Retd.) has taken the responsibilities on his shoulders as President since inception of SAAHAS. He is a retired Police Officer having Specialization on Traffic Police Department by attending 14 National & International Trainings & Seminars. Due to his extra ordinary qualities most of the time during his service tenure he served in Jaipur, capital of Rajasthan. His experience and guidance has Highly benefited SAAHAS.

Patron
Mr. K.L. Jain, Hony. Secy. General of Rajasthan Chamber of Commerce & Industries is Highly Respectable Personality, specially in Rajasthan. He is a very intelligent and farsighted person. He understood very well that SAAHAS is the only organization which can make Jaipur & Rajasthan popular in the world with a new identity, that is, as centre of Motor Racing. He agreed to patronize SAAHAS and have been supporting whole heartedly since inception.

Patron
Brigadier Surendra Kaushik, he proved his mettle in1971 Indo-Pak war and was awarded the Vir Chakra for his gallantry. Even after his retirement from Army he never relaxed. He has always been supporting various activities organized for the development of Jaipur & Rajasthan. Understanding the ideology, he happily consented to patronize SAAHAS. All the Motorcycle Expeditions planned & executed by SAAHAS were successfully organized under Brigadier Kaushik's flawless guidance.

Vice President
Mr. Sunil Gautam is M.D. of Unison Distributors, a C & F Agency for all Rajasthan, catering Anand & Eicher Group. One of the most experienced Career and Forwarding businessman in Rajasthan. He is also member of Stock Exchange, Jaipur. He is very modest and impressive personality. He is a great backing for SAAHAS since inception in terms of providing room in Unison Distributor's office premises, permitted to use telephones, fax, computers, address for mails etc. To be precise SAAHAS has grown up from infant to eleven years old because of the nourishment provided by Mr. Sunil Gautam.

Coordinator
Mr. Divya Bhushan Sharma, is M.D. of Peacock Enterprise. He is a famous designer, manufacturer, distributor & retailer of Uniforms, based in Jaipur. During his school & college days he was a regular Football player, disciplined NCC Cadet and did Bicycle Expedition from Jaipur to Masouri and back. He Participated in all the Motorcycle Expeditions organized by SAAHAS since 2002. He is a jovial person and charged with never ending energy. His presence makes the environment very lively. His popularity amongst all the young racers & volunteers is amazingly high. His qualities make him an efficient Coordinator and the most exclusive person in Team SAAHAS.

Technical Expert
Mr. Ravi Kant Sharma, the most renowned Motorcycle Mechanic in Jaipur, popularly known as Ravi Bhaiyya. All the racers and youngsters want that their Motorbikes must be tuned by him. He is Official Tuner of SAAHAS. He is responsible for Scrutinizing the participating vehicles during the events. He takes care of the documentation whenever SAAHAS is organizing Motocross, Desert Cross Country Race, Vintage Rally, Motorcycle Expedition etc. During Motocross one of the most sensitive job, that is, lap showing & finish is also taken care of by him. He participated in all the Motorcycle Expeditions since 2000. As member of Racing Team SAAHAS Mr. Ravikant Sharma won several Motocross & Desert Cross Country Races till 2005. His experience and zeal for the sport has now made him a key person in Organizing Team SAAHAS.

Chief Official - Start Area
Mr. Gagandeep Singh Marwah, M. Phil & Post Graduate in Physical Education, presently working in Delhi Public School, Jaipur. This Tall & Handsome Sardar (Sikh) with Athletic Physique is a sharp eyed official, no racer can take a jump (false) start when he is on toes at the start line up area, whether it is a Rally (cross country race) or Motocross. Mr. Gagandeep is an exclusive sports personality who is having expertise in not only Track & Field Sports but also in Motor Sport.

Chief Official – Time Keeping & Lap Recording
Mr. Manmohan Sankhdher, Director- Utility Home Services (a Pvt. Ltd. Co. engaged in Railway Signaling Works on Contract). A very cool & calm person, extremely good at maths, thus famous as Human Calculator amongst his friends. Whether calculating timings / results of a CS / SS stage rally or TSD format rally Mr. Sankhdher's abilities are extra ordinary. He is a dedicated associate of SAAHAS since inception.

Chief Scrutineer
Mr. Arun Singh Gahlot, is Director of K. S. GROUP, dealer for all Rajasthan of Ford India Pvt. Ltd., Mahindra & Mahindra Ltd., Tractors and Farm Equipment (TAFE) Ltd., TVS Motor Company etc. He is highly experienced and have deep technical knowledge of all kinds of automobiles. His ability to detect faults in any kind of Motor Vehicle in a glimpse is amazing. He is a committed member of Events Organizing Team SAAHAS as Chief Scrutineer. He is also a great helping hand during lap recording and time keeping. Mr. Arun is so fond of long rides that despite scarcity of time due to his business he participated in two Motorcycle Expeditions organized by SAAHAS and enjoyed riding up till world's highest motorable road Khardungla (18380 ft.) in district Leh of Jammu & Kashmir.

Chief Steward
Dr. Shekhar Verma is Associate Proffessor in Zoology Department of Rajasthan University, Jaipur. He is a treasure of knowledge, hence popular as Human Encyclopedia. He is passionate for Motor Sports. He is a man with positive attitude and is truly impartial. His afore said qualities encouraged SAAHAS to assign him as Chief Steward of the meet. Having faith in genuine efforts of SAAHAS to promote Motor Sports, he gladly consented. All the events by SAAHAS since inception are organized under the Stewardship of Dr. Shekhar Verma.

Chief Medical Officer
Dr. Keshav Joshi is Consultant Pathologist and owner of most trustworthy clinic in Jaipur & Rajasthan, KCJ Diagnostic. Since childhood he has been a sports person and played Football till National level during his student age. While traveling in different parts of the world, he has experienced various adventure sports like Scuba Diving, Mountaineering, Trekking, Canoeing, Para sailing etc. He has always offered his services during all the events organized by SAAHAS whether in Jaipur or any other city. He very well understands the risks of Motor Sport therefore his team comprise of Dr. Sanjay Arya, Dr. Naresh Goyal, Dr. Rana Harjeet Singh, Dr. Jayant Sharma, Dr. Vivek Chaturvedy, couple of para medical staff and two ambulances. Alike Lord Krishna was with Pandavas to solve every problem, Dr. Keshav (another name of Lord) is with SAAHAS.

Awards Coordinator
Mr. Anuj Sharma is Director of Orient Crockery, an all Rajasthan distributor for numerous kinds of crockery & cutlery. All the elite hotels, restaurants, caterers etc. are main buyers of the firm. Mr. Anuj is a vetran sports personality. He played Hand Ball during his school & college days. He made Jaipur & Rajasthan feel proud by not only representing college, university & state team but also West Zone Team too. He is so alert as well as quick that while distributing more than 125 trophies & souvenirs, not a single mistake occurs. Credit of finishing the event flawlessly goes to Mr. Anuj Sharma.


Press / Media Coordinator
Mr. Sanjay Kaushik is Director of Rajputana Holiday Makers, a tour operator agency with vision to promote Rajasthan through Heritage, Culture & Art Tours, develop lesser known tourist destinations, one of the pioneers in arranging mock weddings of foreigners in Rajasthani traditional style and entertained Foreign Dignitaries like Prince Charles and Mr. Salman Rushdi to name a few. Mr. Kaushik is respectably acclaimed person in Rajasthan with an attractive personality. He can read, write & speak French, English, Hindi & Dhoondari (one of the five major ancient regional languages of state) fluently. He has a strong say in Press & Media. According to Mr. Sanjay Kaushik events organized by SAAHAS will speed up the progress of Rajasthan and attract print & electronic media from the whole world also, which will lead to enhance tourism in Jaipur, Rajasthan & India.

Chief Security Officer
Mr. Chain Singh Rathore is Senior Area Manager of the oldest, quite efficient and most reputed Goliath Detectives, Jaipur. He has a long experience managing International Jewelry Shows, Musical Nights, Exhibitions etc. He is capable enough to handle the thousands of crowd.. He also takes care of VIP area. He is vigilant enough to recognizes the problem area and tackle it intelligently. He is also smart enough to coordinate between Private Guards and Police. At least one Mr. Rathore is always needed in every crowd pulling event like All India SAAHAS MOTOCROSS.

Official Obeserver
Prof. Param Dev Sharma is a retired Professor. His faculty was Social Sciences & subject specialization was in Political Science. His level of energy, passion for adventure and will power can be very well understood by a recent incident that is, he visited Kailash Mansarover this year (2009), at the age of 76. Prof. Sharma is eldest member of Team SAAHAS since inception and everyone respectfully addresses him Chacha ji. His nature of job during the events is to be observant and jot down the flaws. He has played a vital role in improvising the organizing quality of SAAHAS.